Therapeutic Dynamics Insurance and Billing
We are contracted with numerous health insurance companies, including those listed below. We will also work with all non-contracted insurance groups. As the list changes periodically, please call us at (770) 232-7100 if the company you use is not on the list.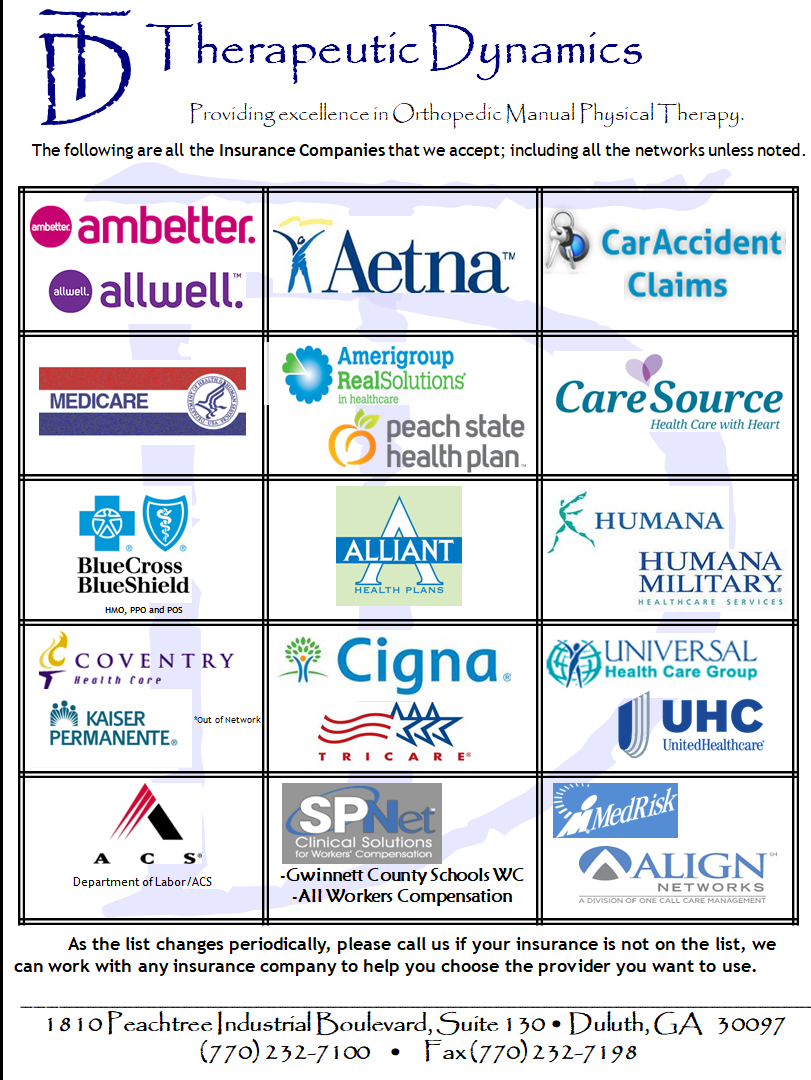 BILLING POLICIES
Private/Group Health Insurance
We participate with most health insurance plans. Before you come in for your first visit, we will confirm the eligibility and benefits and inform you of the particulars of your insurance coverage for physical therapy at the time of your first visit. You can also request that we call you before you come in to let you know what your benefits are. We will also work with your doctor and insurance company to obtain authorization for therapy when it is required.
We will be more than happy to obtain the necessary information from you before you come in for your first visit. We will need your insurance company name, group number, insured's identification number, date of birth and insurance phone number.
We provide electronic insurance billing services. Co-payments are collected at the time of each visit. Any balance due after the patient's insurance has paid, such as coinsurance and/or deductible amounts, is billed to the patient on a monthly basis or as requested by the patient. Patients with a financial hardship may speak with the office manager to set up a flexible payment plan.
We accept most methods for payment such as cash, check, credit card (Visa, MasterCard, American express, Discover). We can also process payments over the phone with credit cards.
_________________________________________________________________
Medicare Patients
Patients who have coverage thou Medicare will be responsible for the Part B deductible. After the deductible is met, the patient will be responsible for the Part B 20% co-insurance. If the patient has a supplemental insurance coverage, Therapeutic Dynamics will cordially file it.
Patients who do not have a supplemental insurance may speak with the office manager if they are having a financial hardship.
Please let us know if you have been to Physical or Occupational Therapy before so that we can keep a track on the number of visits you have used under Medicare Cap limit for Physical and Occupational therapy.
If you are receiving Home Health under Medicare, please let us know before your first visit.
_________________________________________________________________
Auto Insurance
Patients who were involved in a motor vehicle accident will use their automobile insurance if there is "Medical Pay" included in their policy. If you are not sure whether you have Medical Pay, we will be more than happy to call your auto insurance and get his information for you. We will cordially bill the patient's auto insurance up to the amount of "Medical Pay" included in their policy in the event there are no medical benefits available or if they are exhausted,
Therapeutic Dynamics will file a claim with your private/group health insurance carrier only if we have a letter from the auto insurance stating that no Medical Pay is available. If patient does not wish to file a claim with the auto insurance, Therapeutic Dynamics will accept cash, check, or credit card (Visa/MasterCard) for payment at each visit. Therapeutic Dynamics can not file a claim with the "other driver's insurance" no matter who was at fault in the accident.
If you have been in an auto accident and are not sure about how your insurance works, we offer a complementary analysis of your benefits. You may qualify to have your treatment covered without the expense of having to pay a deductible and/or co-pays required by your health insurance.
Most patients  that are involved in a no-fault auto accident are hesitant to use their auto insurance because they think it might affect their auto insurance rates later on.  We are here to help you understand how Auto Insurance works.  Medpay is a Benefit you choose to have on your policy in case you ever need it, so it is there for you to use it when you need it, you have been paying for this benefit all along.
Call our office to find out more!  770-232-7100
________________________________________________________________
Worker's Compensation
We offer same day scheduling for all Worker's Compensation referrals. Injured workers have 100% coverage for Physical Therapy under their employer's worker's compensation insurance. Prior authorization for physical therapy may be required before the patient can begin therapy. We will work with the patient's doctor and insurance company to obtain authorization in a timely manner.
________________________________________________________________
Self-Pay
For patients without insurance or who choose not to use their insurance, affordable payment options are available.
_________________________________________________________________
If you have any questions please e-mail us at billing@therapeuticdynamics.com.
We will respond within 24 hours.